Asset Based Lending provides another avenue of fast and flexible funding for your business by tapping into the value of your existing assets. Learn how we can help put cash tied up in equipment, inventory and other assets to work for your business.
Unlock the value of your assets
Asset Based Lending lets you skip the hassles and delays of conventional financing by using your existing assets as collateral, so you get faster access to funds. Qualifying assets typically include accounts receivable, inventory, and machinery and equipment.
Asset Based loans can have multiple sub-facilities that may include a revolving line of credit and/or a term loan facility. The amount of available funds is regularly assessed and determined based on the changing values of your assets.
Business Benefits
Unlock cash tied up in existing assets
Grow your facility as your business grows.
Be able to include more assets and use collateral monitoring system to boost availability.
Simplify and speed access to funds with bulk basis reporting.
Borrow as much or as little as you need based on revolving loan balance availability.
Avoid tightening credit availability based on economic cycles or market fluctuations.
Work with a dedicated Account Representative who knows your business and can help evolve your facility to meet your changing business needs.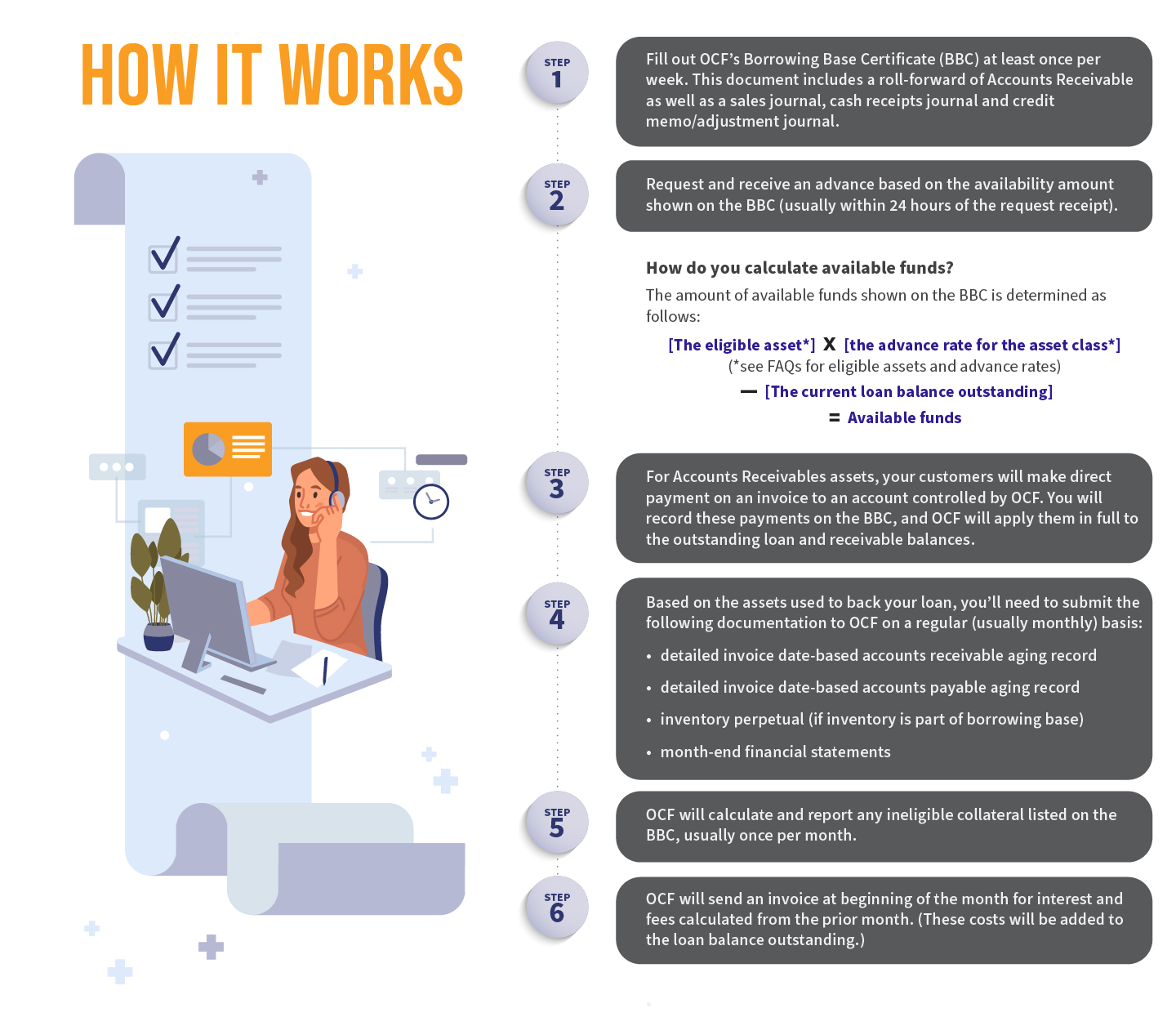 Details
OCF General Asset Based Lending Terms
Client situations:
Rapid Growth, Refinance/Restructure, Recapitalization, Turnarounds, Management Buyouts, Start-ups, Bankruptcy.
Geographic Focus:
Nationwide, OCF has offices in Phoenix, AZ and Oxford, MI.
Facility Size:
$500,000 - $5,000,000
Advance Rates:
Up to 90% of eligible accounts receivable.
Up to 65% of finished goods, 50% of raw materials.
Up to 85% of OLV, not to exceed to 100% of OLV.
Term:
Revolver – 1 to 3 years with 1-year renewable periods.
Term Loan – 36 to 60 month amortization period.
Eligible Collateral:
Accounts Receivable under 90 days old
Inventory (raw material & finished good)
Machinery & Equipment (excludes furniture, fixtures & equipment (FF&E), rolling stock & technology equipment)
Pricing:
Competitive with prevalent market rates. Pricing depends on the size & complexity of the facility and strength of Borrower.
Variable - Prime plus, may include maintenance, commitment or other fees .
Industries served:
Manufacturing, Distribution, Transportation, Staffing, Oil & Gas, Service Providers, Technology, Alternative Energy, plus more.