Purchase Order Financing (P.O. Financing) is a financing tool to allow borrowers to fulfill orders they have received from their customers in situations where those borrowers may not have been able to do so due to lack of cash or credit/availability under a revolving line of credit. P.O. financing allows a company to grow virtually unencumbered without giving up equity in their business.
Financing is used to cover the direct costs associated with fulfilling an order (cost of goods, freight, duties, and logistics costs). Payment is made directly to the domestic or overseas vendor in order to ensure that the goods needed to fulfill orders are paid for and delivered on time.
Opportunities for PO Financing
Importers, Exporters, Distributors, Manufacturers – Any company that is experiencing sales growth that is outpacing the company's ability to sustain that growth via internal cash flow, supplier credit, and/or availability under a revolving line of credit and helps build a company's balance sheet (receivables, cash, and inventory) without giving up equity.
NOTE: Oxford Commercial Finance (OCF) will not provide PO Financing on a stand-alone basis. Client or prospect must have or be applying for a working capital facility.
Business Benefits
Allows the company to increase revenue without having the necessary cash or capital to finance new business.
Provides the company with the ability to purchase product when vendor credit is not available.
Assistance with determining the credit worthiness of your customers and ultimately collecting the receivable.
Fast, flexible, no long approval process. Facility can grow with your increased sales.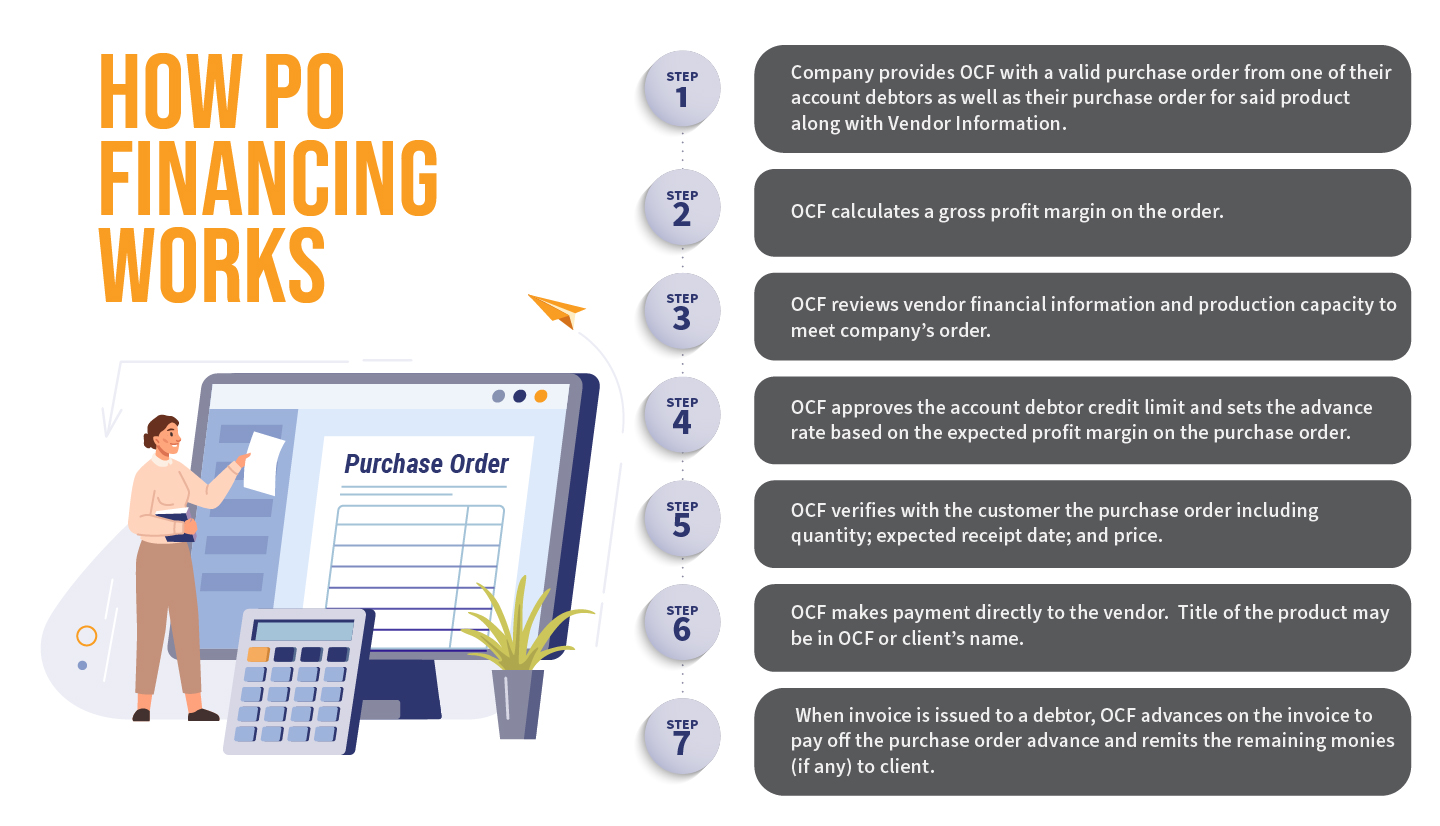 Details
OCF General PO Financing Terms
Client Situations:
Rapid Growth, Large customer order, New business
Geographic Focus:
Nationwide, OCF has offices in Phoenix, AZ and Oxford, MI
Facility Size:
Dependent on the size of the working capital facility ($100,000 - $5,000,000).
PO facility will a sub-facility of the working capital facility.
Advanced Rates:
Up to 100%, dependent upon gross profit margin of the order.
Collateral Required:
Valid purchase order from their account debtor that confirms to the Uniform Commercial Code.
Eligibility:
The Purchase Order from the customer should not have any "special" terms attached such as guaranteed sales, pay when paid, hold for future release, etc.
The product should never be brought in as "stock" inventory for future sales or release dates yet to be confirmed. Purchase Order Financing is not for raw materials or WIP purchases that require outsourced manufacturing, long manufacturing cycles or delivery schedules.
Pricing:
Competitive financing rates are based upon your annual sales volumes, average invoice size, payment terms extended to your customers and customer credit quality.
Industries Served:
Manufacturing, Distribution, Importers and Exporters.