Term loans are a great financing option for companies with moderately good credit that wish to purchase new or used business equipment. Learn how we can help you secure the right financing while keeping your cash flow flowing.
Financially Grow Your Business
A term loan gives you the freedom to purchase new or used mission-critical equipment for your business, while taking advantage of low monthly payments and flexible terms. These loans can make it easier to afford essential assets while preserving the working capital you need to fund your business every day.
OCF looks at both collateral value and business financials to determine term loan eligibility. Also be aware that certain assets don't qualify as collateral, including rolling stock, titled vehicles, restaurant equipment, furniture and fixtures, leasehold improvements or specialized equipment.
Business Benefits
Purchase new or used equipment without having to take a big hit to your cash flow.
Unlock the equity you have tied up in your current fixed assets.
Properly match liabilities with your assets by not using working capital to fund long-term assets.
Acquire new equipment sooner to improve efficiencies and lower downtime and maintenance costs.
Get the flexibility to fund multiple purchases over time.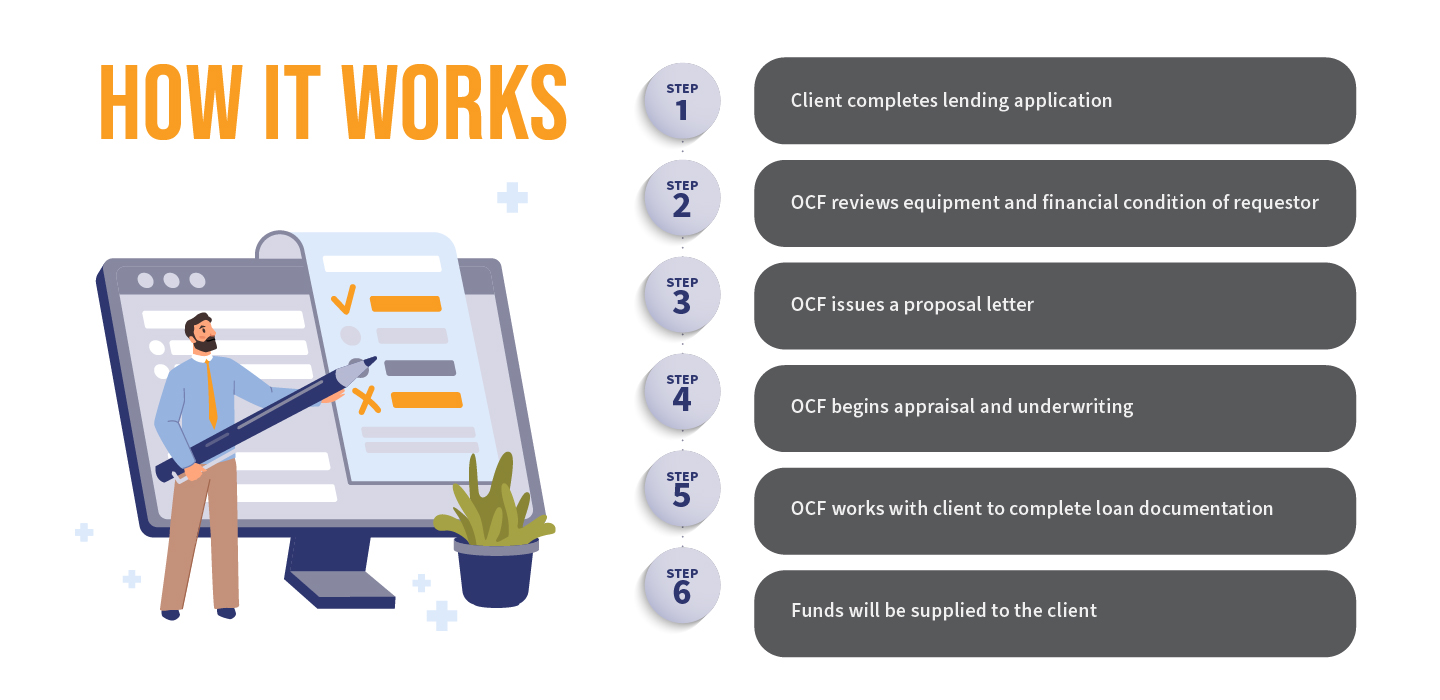 Details
OCF General Fixed Asset Financing Terms:
Client situations:
Rapid Growth, Refinance/Restructure, Recapitalization, Turnarounds, Management Buyouts, Start-ups, Bankruptcy.
Geographic Focus:
Nationwide
Facility Size:
$250,000 - $2,000,000
Advance Rates:
Up to 80% of appraised Forced Liquidation Value, 90% of invoice cost on new M&E and 80% of invoice on the purchase of used M&E.
Collateral Required:
First security interest in the equipment and personal/company guarantee.
Amortization:
Up to 60 months for specific equipment.
Pricing:
Competitive market rates.
Requirements:
Appraisal by an approved Oxford Commercial Finance appraiser not less than 3 months old. Tax Returns and/or Financial Statements.
Industries:
Manufacturing, Packaging, Food Processing, Metal Working, Mining, Oil & Gas, Construction, Plastics & Rubber, plus many more.