View all posts
SVP, Managing Director of Oxford Commercial Finance Robyn Barrett Named Board President of American Factoring Association (AFA)
05/31/2023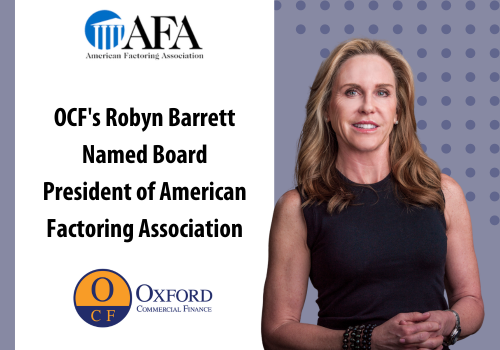 Oxford Commercial Finance's leadership continues to advocate for accounts receivable factoring and other creative working capital solutions for businesses across the country
OXFORD, Mich. – May 31, 2023 – Oxford Commercial Finance (OCF), a subsidiary of Oxford Bank, is announcing its Senior Vice President and Managing Director, Robyn Barrett, has been named incoming president of the American Factoring Association (AFA) for a two-year term.
Barrett has been an active volunteer board member since 2019 and previously served as marketing committee chairperson for AFA, the sole body representing the factoring industry at the federal and state legislative level. AFA educates key stakeholders within government and business on the ability for factoring to drive business and support a heathy economy. To date, the AFA has conducted over 200 meetings with officials, including U.S. Senators and members of Congress.
"I'm honored to lead the AFA board and give back by advocating and educating on the benefits of factoring. Our goals at the AFA are to protect the industry and build relationships with key stakeholders, such as government officials and business leaders," says Barrett. "We ultimately create engagement and demonstrate how important factoring is to small business."
Barrett recently attended the AFA Washington D.C. visit in March 2023, where she advocated for meaningful and accurate factoring disclosure requirements at a state and, possibly, federal level.
OCF President Mick Goik says, "When companies experience a cashflow shortfall, factoring can provide immediate capital based on future income. It can be an effective way for companies to leverage their accounts receivable to meet goals. Robyn has been a vocal champion for the factoring community for years. She is passionate about helping companies secure the capital they need to overcome gaps in cashflow, drive growth and scale. I can't think of a better person to lead the AFA board and lobby for the industry."
Backed by over 100 years of combined commercial financing experience, OCF assists small and mid-sized businesses to scale through creative financing options, which include:
About Oxford Commercial Finance
Established in 2023, Oxford Commercial Finance Corp ("OCF"), is a subsidiary of Oxford Bank, a Michigan headquartered FDIC insured bank. OCF is a full-service commercial finance company providing cash flow financing solutions to small and midsize businesses that may not qualify for conventional bank financing. OCF looks beyond conventional financing considerations to identify and understand the unique strengths and potential of each client it serves. https://www.oxfordcommercialfinance.com
About American Factoring Association
The American Factoring Association (AFA) was founded in 2009 with the sole purpose of educating the public and policymakers on the availability of working capital for financing America's small businesses and to conduct efforts in support of increasing working capital financing. It is a non-profit 501 (c) 6 corporation. The AFA has conducted over 200 meetings with various officials, including U.S. Senators and Congressmen, with the goal of educating the value that Factoring drives to the business community and economy. For more information visit www.americanfactoring.org
###
Media Contact:
Hilary McCarthy
Clearpoint Agency for Oxford Commercial Finance
774.364.1440
Oxford Bank is an Equal Opportunity Lender